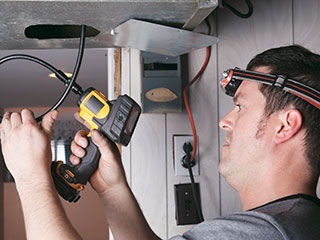 How can you know what's floating about in the air inside your Escondido home or business? Of course, there might not be anything obviously visible, but then the spores, dust, and toxins can pose significant health problems that can never be seen with the naked eye. Whether you're in charge of an office block, restaurant, store, or your home, the quality of air in your property needs to be regularly tested for a wide range of contaminants. You want to breathe the cleanest and freshest of air possible inside your property. All sorts of airborne contaminants can circulate through it without you knowing it, though. That's why occasional testing of the indoor air quality helps you determine when the air ducts and HVAC unit need cleaning.
What Are Airborne Contaminants?
You'd be amazed at the number of different substances and particles which can enter the atmosphere of a Escondido area property. Mold in the air ducts is a particularly good example - this fungus thrives in the dark, moist corners of a property, and often gains a foothold in crawlspaces. It reproduces by releasing spores into the atmosphere, which the occupants of a building then breathe in. This can be nasty, but other contaminants are much worse; old lead paint, insulation fibers, and vermin debris can all enter the air as well. Your HVAC system circulates hot and cold air throughout your property. That means if airborne contaminants get inside, they can spread around the different rooms via the ductwork.
What Problems Do Dirty Air Ducts Cause?
Sure, breathing in mold spores and vermin debris is gross. But hasn't evolution given us the tools to deal with that? Well, sort of - our bodies can handle a certain amount of contamination in the air that we breathe. However, most buildings will recycle and reuse air. Not everything can be filtered out, which means if there are contaminants in the air, we're exposed to high levels of it. Breathing in the same pollutants day after day will eventually cause health problems, especially in those most at-risk: the young, old, and those with pre-existing conditions. The air ducts of your Escondido home or office space need to get cleaned at least once a year. That way you ensure the vacuuming out of all sorts of small debris and dust, as well as other contaminants.
How To Improve Indoor Air Quality in Escondido Properties
You can never know whether the air in your property is clean or not by just looking at it. Even if there are no signs of infestation, mold, or old insulation materials, it only takes one contaminant hidden away deep in an air duct to cause real problems. To avoid this, it is recommended to opt for air quality testing services. You can often feel indoor air getting stuffy and stale. But even when you don't, you could have contaminants in the air ducts circulating through the space. The best way to improve indoor air quality is by getting the ductwork and HVAC unit cleaned. Replacing air filters in a timely fashion also helps ensure all sorts of airborne contaminants get removed during circulation.
Professional Air Duct Cleaners Nearby
If you want to test the quality of your indoor air or get ductworks or HVAC grills cleaned thoroughly, you've got us to call on. Air Duct Cleaning Escondido provides the most efficient and inexpensive maintenance and repairs for ductworks, vents, and more. Our technicians will assess the condition of your property's indoor air quality and tend to any problems, should we find them. Get thorough cleaning of the air ducts, vents, and other HVAC system sections today!